"Because they do things totally different well," UConn coach Bob Diaco said at AAC Media Day Tuesday. "Things we're going to need done."
What's goin' on'?
First here's my UConn Football notebook from Newport today
Second, a little closer look at what Diaco is seeing with respect to quarterbacks Chandler Whitmer, Casey Cochran and Tim Boyle and why he thinks more than one QB has to play.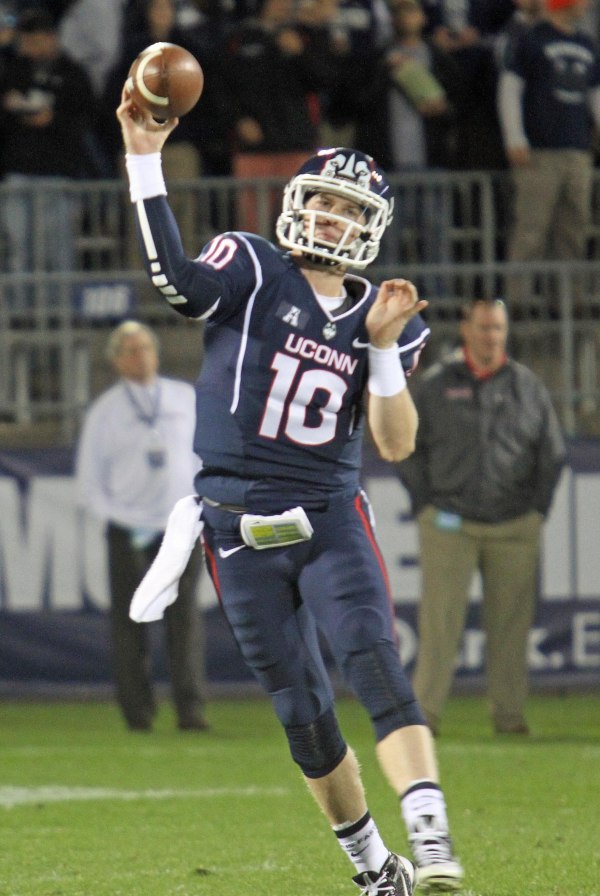 "Chandler is working on his liabilities," Diaco said. "Very few of his liabilities have to do with his tangible skill. He's incredibly talented. He's fast. He's got an incredibly strong arm. He throws great on the move. He sees the game in pictures like you're supposed to so he's working on shallow, intermediate to short passing. He is working hard at that. He's working on leading, being a great teammate."
"Casey is your quintessential leader. He's the moxie, the swagger guts guy that is going to will the group down the field but he's got to work on his foot speed. He had to work hard on his body composition. He probably lost almost 30 pounds. I think he weighs 217 pounds right now. When we started he was 247, 243. Now he's in the teens. He dropped his body fat probably 20 percent, 15 percent. So he's working on his liabilities: arm strength, foot speed, change of direction."
"And Timmy… young guy. Finding his way from a leadership standpoint, finding his way from a leadership standpoint, finding his from a communication standpoint; finding his way as it relates to piecing together all the moving parts of an offense attacking the defense – but he possess the total package as it relates to his tangible skill. He's got touch. He's got a hose [arm]. He can run. He can change direction. He's fast. He's got body, hard to tackle, yeah…so."
DC